Brad's Construction General Contractor Website Case Study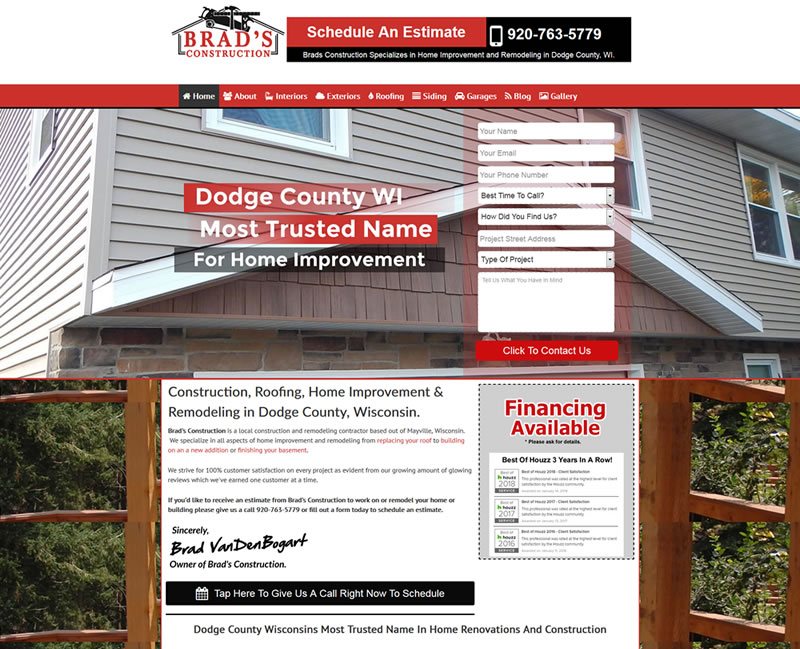 Brad's Construction is a general contractor based out of Dodge County, Wisconsin.  Brad originally contacted us back in 2012 after reading some of Carl Sorensen's posts on a popular contractor forum.  At the time, his business was focused on property preservation for banks and landlords who needed to repair or remodel properties after they'd been foreclosed or the existing renters had left.
How Did We Help Brad And Brad's Construction?
We built Brad a new website but we expanded his focus into many more services fitting of a general contractor.  We added services such as roofing, siding, deck construction, garage construction, interior remodeling, and more.  Because Brad was operating in a low competition area his new website quickly rose to the top of search engines and all of a sudden he was being found by a lot more potential customers.  This changed his business substantially!
Since first building Brad's website back in 2012, we've rebuilt the website 3 times!!!  Not because it wasn't working, it was because it was working so well and we needed to change the focus of the website to the more profitable services (and away from property preservation).  We also had to keep up with the changing landscape of Internet Marketing to ensure Brad had a mobile responsive website that met all of Google's webmaster guidelines.
It's been about about 6 years since we took over the Internet Marketing for Brad's Construction.  His website has generated 707 leads through his contact forms since 2012.  This has been responsible for hundreds of thousands of dollars in new business and keeps Brad and his team booked out for a few months at a time.
Check Out Some Of The Leads Generated Through His Website
(these are actual copies of leads generated – we've blurred out personal info)
Want To Hire Us To Improve Your Flooring Company Website?