We'll Only Send You The Good Stuff - We Promise!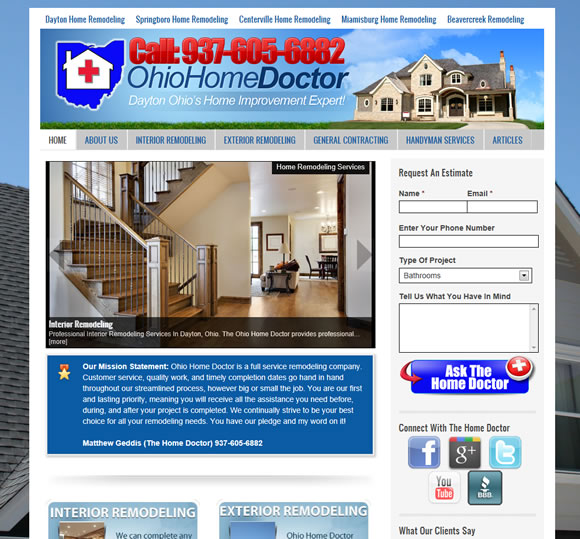 The Ohio Home Doctor is a full service remodeling and home improvement contractor in Dayton Ohio.  The Ohio Home Doctor provides quality interior remodeling services such as painting, flooring, and renovations and they also specialize in exterior remodeling services such as home additions, siding, roofing, and even garage construction.
When Ohio Home Doctor came to us they had an extensive website they'd built themselves but it wasn't in any type of content management solution and had grown too large to manage easily by hand.  We helped them transfer everything into a WordPress website.
WordPress Website
Search Engine Optimized
Social Media Integration
Photo Gallery
BOLD Calls-To-Action
Sites4Contractors specializes
in helping small, service based business owners get online with a professional, business generating web presence. While you're sure to find hundreds of other web design firms offering web design packages at ridiculously low prices we can guarantee that you won't find another offering as thorough or as complete as one of our packages.
Business owners choose us to build and maintain their website because from the moment they first speak with one of us, they KNOW they're dealing with professionals who know and understand their business and how to generate them more customers using the Internet.
In A Nutshell... If You Own A Local Services Based Business...
We Are The Web "Geeks" Your Business Can't Live Without!
Basic Wordpress Website Starter Package – A Great Online Platform For Any Business
The Sites4Contractors Basic Membership is perfect for those small business owners who are looking for a simple solution, they can get up relatively quickly without sacrificing the quality of their setup. You'll be getting a professional looking and attractive website, but the design will be a "stock" theme with only minor customization.  Far from just a "basic" website package this package will … [Read More About Our Basic Package...]
Custom Wordpress Website Package – Take Your Online Presence Up A Notch
The Sites4Contractors Custom Membership is perfect for those small business owners who are looking for a professional solution that can be tailored for your specific business. We can custom design your website based on your input, your examples, competitors websites and more. If you can conceive it, we can likely turn it into a website, this doesn't mean we will. If we think your idea sucks, … [Read More About OurCustom Package...]
Custom Wordpress Website & Search Engine Marketing – Serious Business Owners Only!
The Sites4Contractors Custom/SEO Membership is our highest level of design and marketing service. Not only will we be creating you a custom website for your company, we'll also be handling everything from your content creation to your Search Engine Marketing. This package includes 6 hours of immediate "kick-start" SEO, a Facebook Fanpage, YouTube Channel setup, and more! Are you tired of having … [Read More About Our Custom Package With SEO...]
Some Of Our More Recent Client Website Examples