We Build And Optimize Websites For Construction And Trades Contractors 
We build and optimize websites for construction and trades contractors. 
Since 2008 we've helped hundreds of construction and trades contractors improve their Internet Presence and generate new leads and better project opportunities.  We can probably help you too!
We don't just build your website, we're building an asset for your company that can deliver new leads and better project opportunities.
Many Contractors Waste THOUSANDS Of Dollars On Poorly Built Websites & Badly Implemented Online Marketing Before Finding Us.

We've Doubled, Tripled, Or Even Quadrupled Their Results.
Pixel Perfect Mobile Friendly Designs
Now, more-so than ever your website needs to be mobile friendly and responsive so that users on all types of devices can access and use your website without difficult.  The path for them to take the next step and become a prospect for your business must be crystal clear.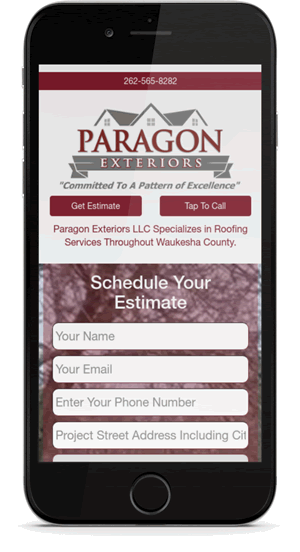 SEO ( Search Engine Optimization)
A website without Search Engine Optimization is about as useful as a measuring tape with no markings.  No matter how nice your website is or how much of your hard earned money you've spent on it, if it's not found by potential clients, it's a digital paper weight.  There are many web developers selling contractor websites for top dollar and they have little to no idea what actually makes a website rank.
Our strategy to get a website to rank well locally (in Google Maps) and in organic search is aggressive, white-hat, and thorough, we leave no stones unturned.  We often do website analysis for new clients who've been spending top dollar on an SEO firm only to find out they've done virtually nothing but take their money!
In the confusing world of Internet Marketing and Search Engine Optimization it's EASY for a contractor to get ripped off and taken advantage of.
Here's What We Do - We'll Start With The "On-Page" Optmization.
All Work Is Documented And Provided To Our Client
Off-Page SEO ( Search Engine Optimization)
"Off Page" SEO is what happens "off" your website and involves items like social media profiles, local citation building, targeted backlink building, community outreach, local publicity, and analyzing your top-ranked competitors websites (for more opportunities).  This is one area where it's extremely easy to be taken advantage of because you really don't know what your web guy is or isn't doing.
Here's What We Do - For Our Clients "Off-Page" Optmization.
All Work Is Documented And Provided To Our Client
Websites, SEO and Internet Marketing Exclusively For Construction And Trades Contractors in Canada and The USA.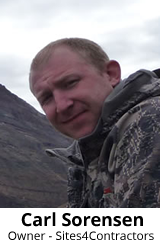 If you're on this website it's because you are a trades contractor of some type and you're looking for a website solution to help give your company a competitive edge in this new and confusing age of Internet Marketing.
Maybe you've had a bad experience with another web development company who've failed to deliver any kind of results?  Maybe you're a sub-contractor trying to get out from under a General Contractors thumb and you want a new method for acquiring work?  Maybe you're starting a brand new contracting company and you want to choose a great web marketing solution to get your new business off the ground?
Whatever your reason for wanting a new website for your contracting company, you've just stumbled upon a great place to learn how to grow your business using the web.
We've been helping contractors straighten out their websites and Internet Marketing since 2007, even if you don't choose us, we'll be able to provide you with some valuable insight that will help you move your contracting business forward in this rapidly changing world of Internet Marketing.

If You Care About The Ability Of Your Website To Generate Quality Leads Please Read On...
You're not here because you're looking for a new web designer.  You probably think web designers are a pain in the ass. We can probably both agree you're here because you care about your business and you're trying to make it grow.
It's probably important to you that your business looks professional and current. You probably want to showcase some of your most impressive work and answer your potential customers common questions about your services.
Most importantly you probably want your website to be found in Search Engines so you can generate more business and income.
That's a whole lot more than what most web designers could do, wouldn't you agree?
We help Home Builders, Remodeling Contractors, Roofing Contractors, Siding Contractors, Painting Contractors, Plumbers and more get their websites built and the foundations laid for a rock solid web presence.
If this all sounds great to you, then let's have a conversation about how we can help your contracting business
Nepean General Contractors Website Case Study
Leads Generated Since 2016
Paragon Exteriors LLC Roofing Website Case Study
+
Leads Generated Since 2014
Island Pro Bins & Septic Services Website Case Study
J & J Wood Floors Flooring Company Website Case Study
Leads Generated Since 2017
Brad's Construction General Contractor Website Case Study
Leads Generated Since 2012
Great Lakes Equipment Sales Inc. Website Case Study
Leads Generated Since 2016
Some Of Our Recently Completed Websites
Just Click On The Website Image To View The Actual Website
SEO & Internet Marketing For Contractor Websites
You probably already know that a website without visitors is a giant waste of your time and money.  We don't just specialize in building contractor websites, we also specialize in getting them found in the major search engines.
We go the extra mile with our contractor website packages and their SEO because we know that's what it takes (and sometimes more) to get your website actually generating calls and inquiries for a contracting business.
Your entire site will be designed around best practice SEO with proper title tags, description tags, well written content, properly tagged images, relevant schema markup and more.
We offer on-going and aggressive SEO plans for our customers who want to take their web presence to the next level or who are in extremely tough markets with entrenched competition.
Our Advanced SEO Campaigns Include:
Competitor analysis
Backlinking and citation campaigns
Implementation of proper schema markup
Research and writing of blog content
Geo tagging and organizing photos
PPC campaign management
On-going monitoring
We are a competent and accomplished team of professional Internet Marketers and when you unleash us on your web presence there is only way to go and that's up!
*Our SEO services are only available to our website clients.  We do not provide SEO or Internet Marketing services for websites that were not built by our team for several reasons.
Beautifully Organized Photo Galleries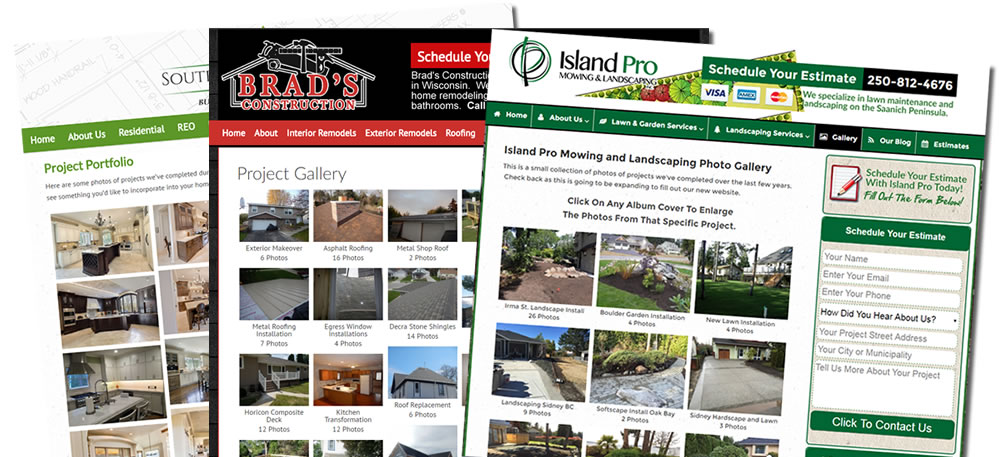 Photos are an important part of any contractor, or service based business website. You want your work to be displayed professionally and in detail.
Using WordPress we are able to display your photos in several professional layouts, with the ease of "point and click" enlarging and other exciting features that will help you portray a more sophisticated image for your company.
We use Envira Photo Gallery for our clients sites because it's very easy to use, neatly organizes their photos and it's fast loading for mobile devices and people on wireless connections.  Your photos can be organized into Galleries and Albums (which are a collection of galleries) so we can neatly organize your photos by project or however you'd like to organize them.
Here Is A Sample Photo Gallery Below
(click a photo to see how they enlarge - this effect is called a "light box")
Here Are Galleries Organized Into An Album Below
(click a gallery to see how they enlarge)
You or your staff, or even us (your new web geeks) can add new pictures to your photo gallery 24 hours a day, any day of the week. We organize your photo galleries into your specific services so when you upload there is no organizing on your part. Choose the proper category and the photos will automatically be resized and added to the appropriate page of your site!
Photo Requirements- If you are submitting your own photos/artwork we ask that you only submit the original works and not resized photos. This ensures you end up with high quality graphics on your website and we can use less stock photography.
Analytics and Tracking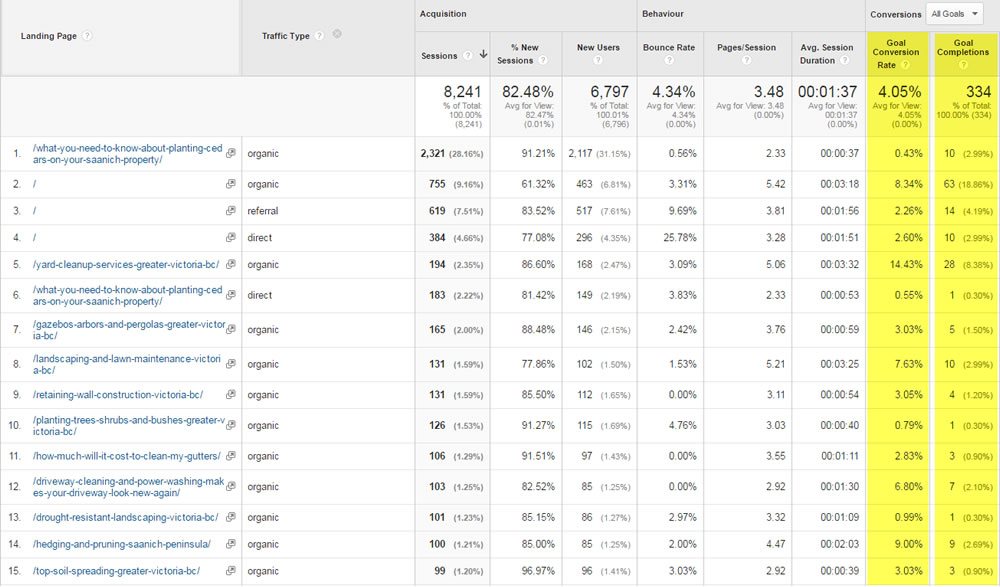 If you don't know where your traffic is coming from, and what pages of your site are delivering the most leads then you're running blind!
We'll be setting up your Google Analytics with proper conversion tracking on your contact forms and tap-to-call buttons throughout your website.  If somebody requests an estimate or clicks your phone button we'll know where they came from.
Regional Exclusivity
We only work for 1 (one) contractor per trade, per service area.  It would be pretty shady if we were sharing our wealth of Internet Marketing knowledge with you, only to turn around and sell the same strategies to your local competitors!
You feed your family and your employees families with your business and we understand that (we do too!).  We work extremely hard to make sure that your web presence gets you found and delivers high quality leads looking for your services.
*You must be an on-going SEO client for regional exclusivity.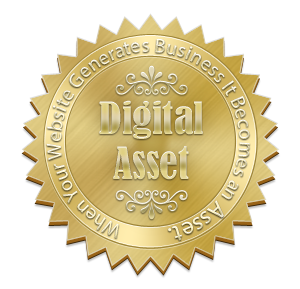 When you set out to build a website for your contracting company it's important to understand the purpose of that site.  You're hiring someone to build it because you want to make more money with your business.  Sadly, most designers will treat you as another pay check without actually caring about your business (or it's growth) in the slightest.
When you  choose Sites4Contractors.Com to build and manage your contracting company website you're teaming up with a group of Internet Entrepreneurs who understand the value a website should deliver for a business.
If it's been months, or even years since your website delivered a new lead then it's not an asset!  It's a money pit and you need to cut your losses and turn us loose on your website.
Are You Ready To Get Started?
If you're ready-to-go or you have questions and want to speak with a real person please fill out the form below or give us a call 1-250-738-0600.