Our Basic Website Package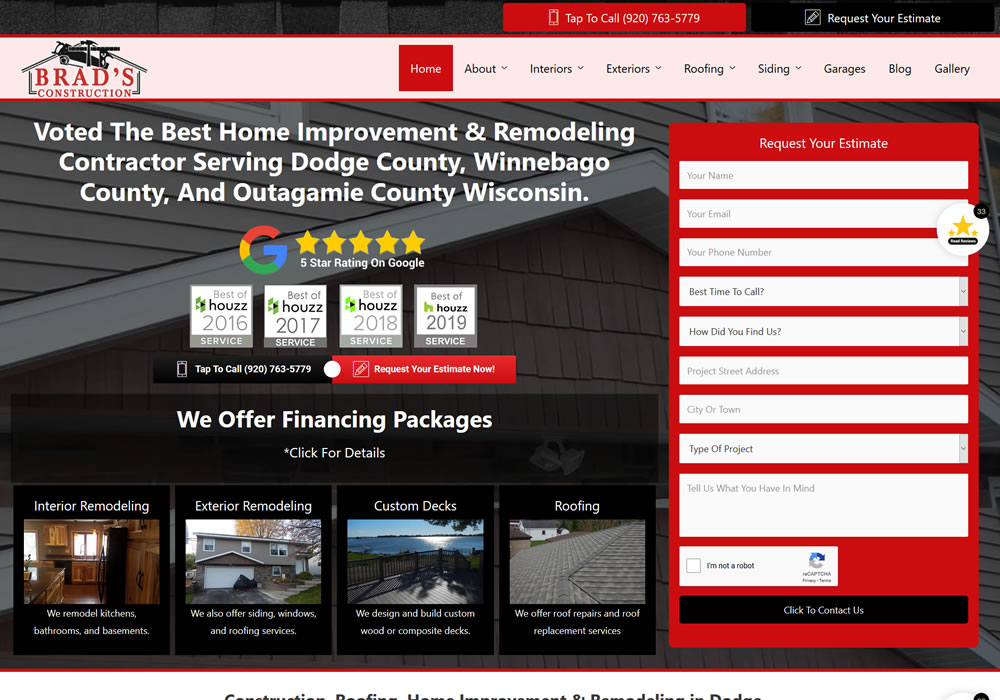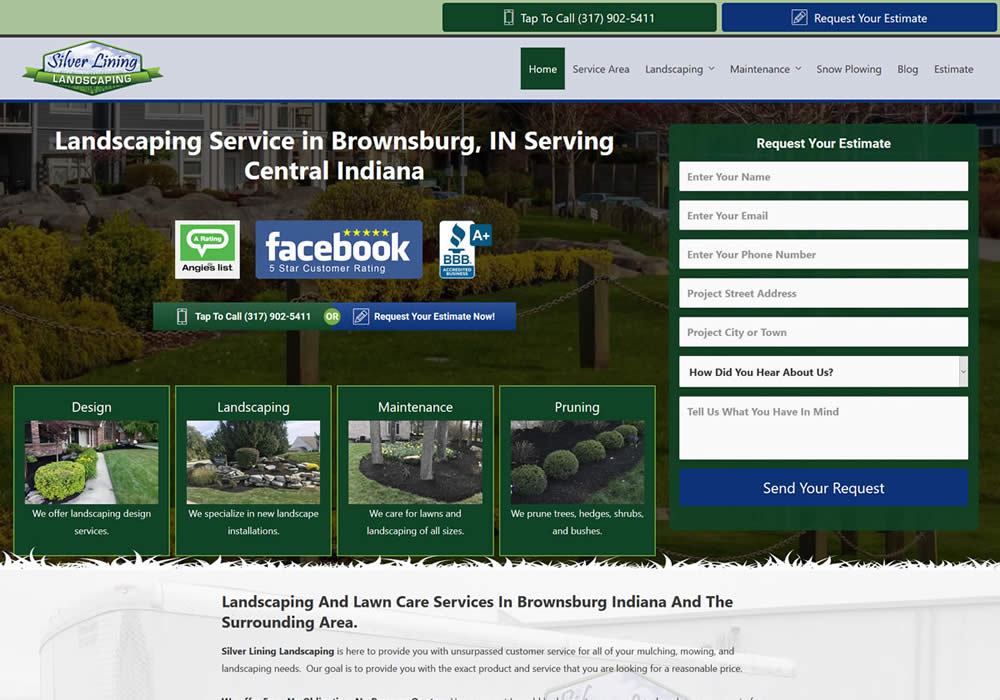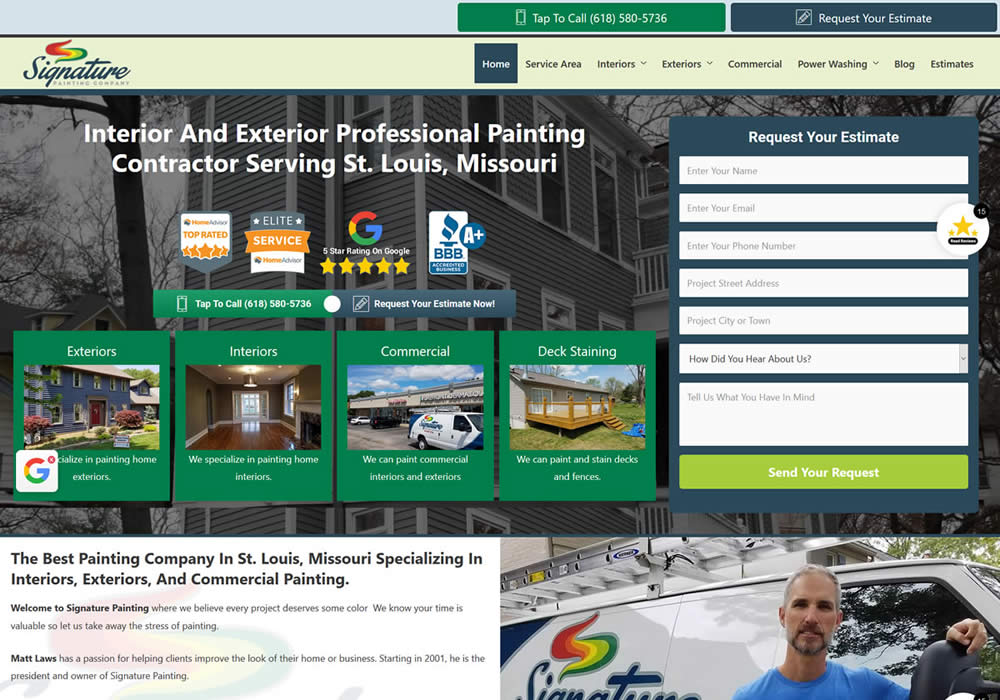 Click A Photo To See A Large Version
Our Most Popular Website Package
The basic website package is far from basic.  This is a very robust website along with your basic search engine optimization and includes everything your business needs to get a rock solid start for your online presence.   We're creating pages for your key services to help you attract more organic search traffic.  We're also writing engaging and persuasive written copy to get your visitors to convert into leads so you can convert them into sales.
This package was designed for the contractor who has established themselves in their field and has a little bit of working capital for their marketing and advertising OR for the contractor who is just starting out but really wants a more aggressive web presence than our starter package.
What's Included With This Package?
Beautiful Mobile Friendly WordPress Website

($1000 Value)

We'll build your website with WordPress.  Your website will use our super professional design and work phones, tablets, laptops, and desktops.  You'll be over the top happy with the looks and customers will be impressed.

15 Page Website With Content & Copywriting

($1800 Value)

We'll write content and copywriting for 15 pages.  Including your home page, about page, a service area page to outline your service area, and 10 services pages to showcase your individual services, a blog, and a consultation request page.

On Page Search Engine Optimization

($197 Value)

Your site will have proper meta tags, headings, and image alt tags.  We'll install local business schema markup.  We'll also install a caching plugin so your website will load super fast on any device.

Photo Gallery Installation & Setup Up For Up To 30 Photos

($300 Value)

We'll install and setup your photo galleries and we'll crop, resize, and optimize up to 30 of your best photos to really showcase your work.  You can add more photos on your own too!

12 Before & After Sliders To how Off Your Work

($300 Value)

We'll setup and install 12 of our super popular before and after photo sliders.  We'll crop, resize, and optimize your photos and load them onto the website.  These are awesome sales tools!

Google Analytics Installation & Setup

($50 Value)

We'll setup your Google Analytics account so you can see how much traffic is coming to your website and you (or us) can use the data to make improvements to your website to get better results.

Google My Business Listing Setup & Optimization

($500 Value)

We'll setup and optimize your Google My Business listing (Google Maps) so your listing is complete and optimized with all of your service areas, your services, and a well written description.

Facebook Business Page Setup & Optimization

($500 Value)

We'll setup and optimize your Facebook Business Page so your page is complete and optimized with all of your services, and a well written description.  We'll also create professional graphics for your page if you don't have them already.

Hosting Account With Tech Support & Backups

($297 Value)

We host your website on a dedicated server staffed by level 3 server technicians 24/7/365.  We can take care of technical issues quickly and your website is also backed up daily!

Pro Account For The Sites4 Review Gathering App

($1200 Value)

You'll get a PRO account for our review gathering mobile app so you can easily get more reviews from your customers on Google, Facebook, Houzz, Yelp, BBB, and Home Advisor.  Other companies sell similar apps for $97/month!
Over

$6000

In Value For Just

$3000
$3000 One Time ($1000 down and 10 payments of $200).  Annual Renewal Is $297/Year.
This is an awesome, unbeatable offer for a professional website!  You're getting $6000 worth of value including professional setup, professional software, hosting, and our review gathering app.  You'll have a rock solid online foundation for your company.  You'll look much more professional and impress your potential clients.
This website is what we consider the minimum if you want your web presence to get found and generate new clients for your business.  It's more aggressive than our starter package but doesn't include the additional optimization of our higher level package.
Are You Ready To Get Started?
Frequently Asked Questions
This package takes approximately 10 business days to produce as have more setup and a lot of writing to complete.  Before we launch the website we'll go over it with you and make sure you're 100% happy with the final product and then when you say "go" we'll launch it for you.
You can provide us with elements of other sites you might like and we offer some flexibility with the design.  If you leave it up to us you'll have a beautiful, professional website that will impress your potential clients.  If you care about results, just let us do our thing and you'll be very happy with your website.  If you don't like the look of the sites we build then you'll probably want to hire someone else.
If you don't have very many photos of your work or the ones you have aren't the best quality, that's OK.  We can use stock photography on the website to get it rolling.  You'll want to replace any stock images with photos of your own work as soon as you can.
That's a good question!  The website "bones" are the same with every package.  They all run on the same software (WordPress) using the same page builder software.  The real difference is in the amount of content we're creating, how many photos we're processing into galleries and before and after sliders, and the amount of Search Engine Optimization we're doing for you.
This package was designed to be the foundation for a great web presence.  If our highest level package is just too expensive for you right now, then our starter package is exactly what you need and you can expand the site as your budget grows.
Yes, of course!  Your new website will be setup with expansion in mind and you can upgrade to our highest level package by simply paying the difference between the two.
Yes!  Once the website has been paid in full you will have access to the website.  We use an extremely popular page builder software because it makes things really easy for our clients to go in and edit their websites.  We provide video tutorials that you show to add/edit content, create blog posts, add new photos, galleries, and before and after sliders too.
Yes!  Once the site has been paid for in full you will have access to add photos.  We use a very popular photo gallery software for WordPress that makes it super easy to add your own photos and organize them into specific galleries.  We even provide you with some video tutorials showing you exactly how to add your photos.
Once you've paid for the website you own it free and clear.  Your first year of hosting is included with the price.  The annual renewal is $297 per year and that includes your hosting, technical support, wordpress and plugin updates, daily site backups, and access to our review gathering app.  Regular site maintenance plans are available if your business is ready for a higher level of service.
Still Have Some Specific Questions?