Using Branded Photos On Your Contracting Website To Improve Conversions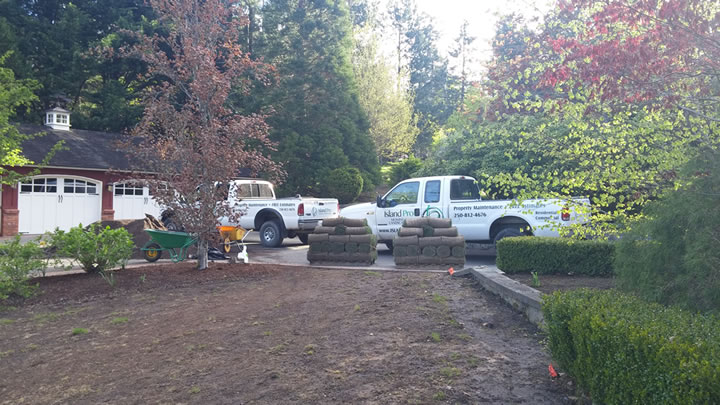 Contractor websites typically don't get a ton of traffic so it's important to maximize whatever traffic you do get.  You want to squeeze the most leads you can out of the few hundred visitors per month your site may receive from search engines and social media.
One sure-fire way that a construction or trades contractor can improve the conversion rate on their website is through the use of adding "Branded Photos".
What is a branded photo?  Branded photos are photos of your work or current projects underway that contain your companies branding.  It could be a photo of one of your trucks with door decals sitting out front of a job site, it could be a photo of you or your crew working on a project wearing t-shirts with your company logo or your lettered trucks or job trailers in the background.
The idea behind branded photos is to tell your web visitors immediately that you are a legit company.  It makes them feel all warm and fuzzy inside that they are dealing with a legit company.
Branded Photos can immediately improve the look of your website, making you look much more professional than the fly-by-nighters operating in your area.  Good branded photos will build trust instantaneously without ever having to convince your potential client that you're a real professional contractor.  A good selection of branded photos tells them you are without a doubt!
Check Out These Branded Photo Examples
This is a dirt simple way to make your website ooze professionalism so you can squeeze out every last lead from the traffic you're receiving.
Some More Photo Tips
Use Proper File Names
Digital cameras and smart phones are great at taking photos but horrible for optimizing them for the web.  A typical photo from your phone or camera will have a useless filename like "DCS34235" which doesn't describe anything to search engines (and photos are an important part of your SEO strategy).
Try renaming your photos before you upload them to your Website, Facebook, Google My Business Page, or even Instagram.  A good filename describes what the photo is about.
Here are a few examples of great filenames for contractor photos:
"completed-roofing-project-xyz-city"
"finished-bathroom-remodeling-project-xyz-city"
"completed-composite-deck-using-trex-decking-xyz-city"
You're starting to get the idea!
Add Proper ALT IMG Tags
Most website software will allow you to add ALT IMG tags to your photos.  These are important for SEO yet so many DIY'ers and even web developers (who are lazy or who don't know any better) will leave these fields blank.  This is another great opportunity to explain to search engines exactly what your photo is about.  This helps build relevancy.  Relevancy is GOOD!
These strategies will work for landscapers, roofers, remodeler, gutter guys, lawn companies, painting companies, power washing companies, framers, home builders, and so many more construction trades.  If you're sick of other contractors "borrowing" your photos then take branded photos, they are really hard to steal!
How are you going to start incorporating branded photos into your own website?