Landscaping Website Design Inspiration
Are you looking for some design inspiration to build your landscaping company website?  That's a dangerous way to build your website!  Just because you like a particular design or layout doesn't mean it's going to work in the "real world" when it comes to convincing your visitors to contact your company for an estimate.  Your website should be the cornerstone of your marketing
The designs you'll see below, while very similar, share one important thing in common.  They flat out work!  When it comes to building or buying a website for a service based business the last thing you want to do is spend thousands of dollars or several hours on your own trying reinvent the wheel.  Instead, it's a much a better plan to follow conversion based design principals, your website should definitely look professional and appealing but it's more important that your website delivers results!
Cedar Lawn Care - Utah Lawn Care Company
(click the image to see the full size)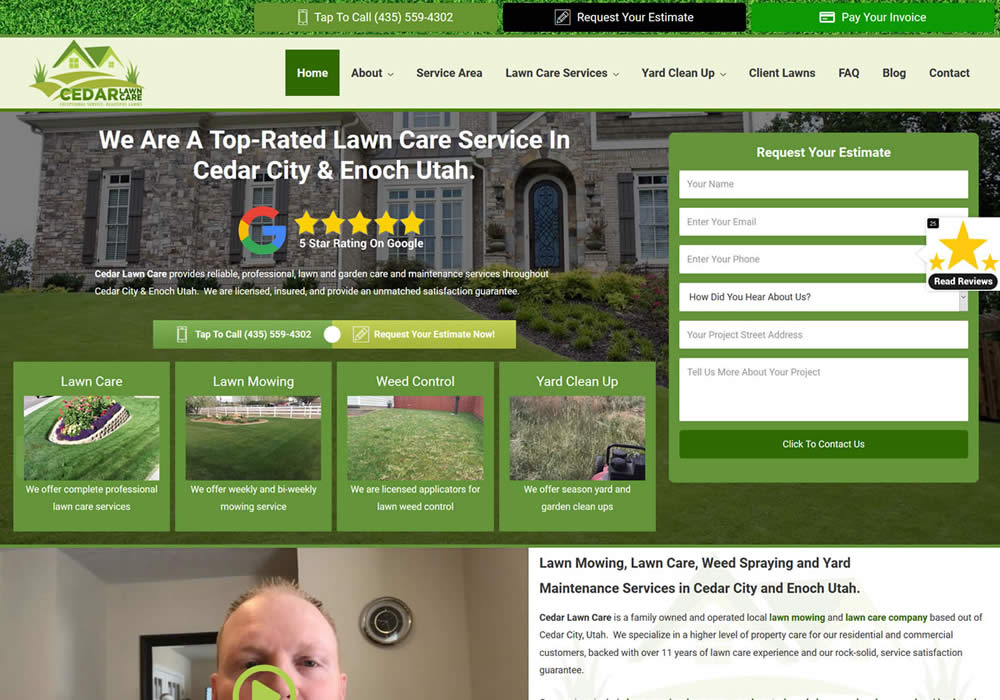 Irreco Landscaping - St. Louis Landscaping Company
(click the image to see the full size)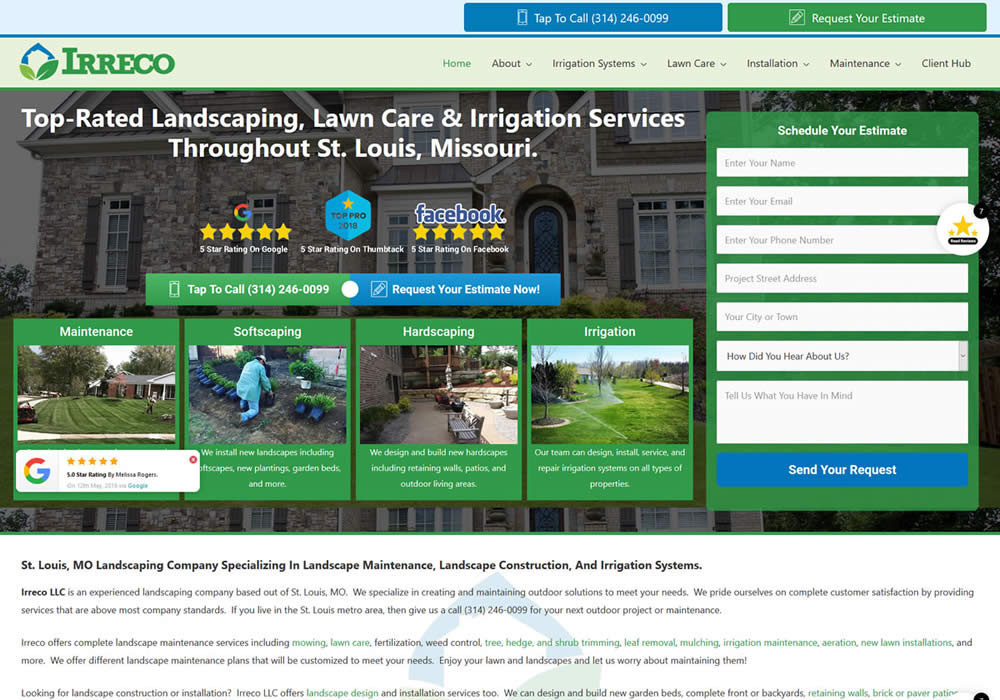 Silver Lining Landscaping - Indianapolis Landscaping Company
(click the image to see the full size)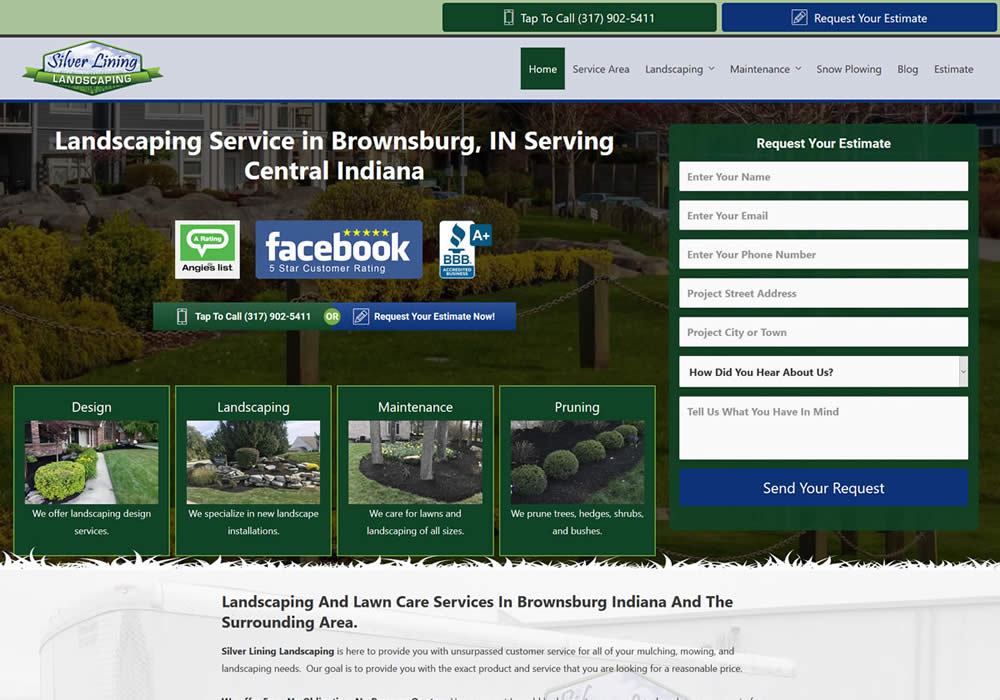 Outdoor Carpentry Company - Victoria Outdoor Structure Company
(click the image to see the full size)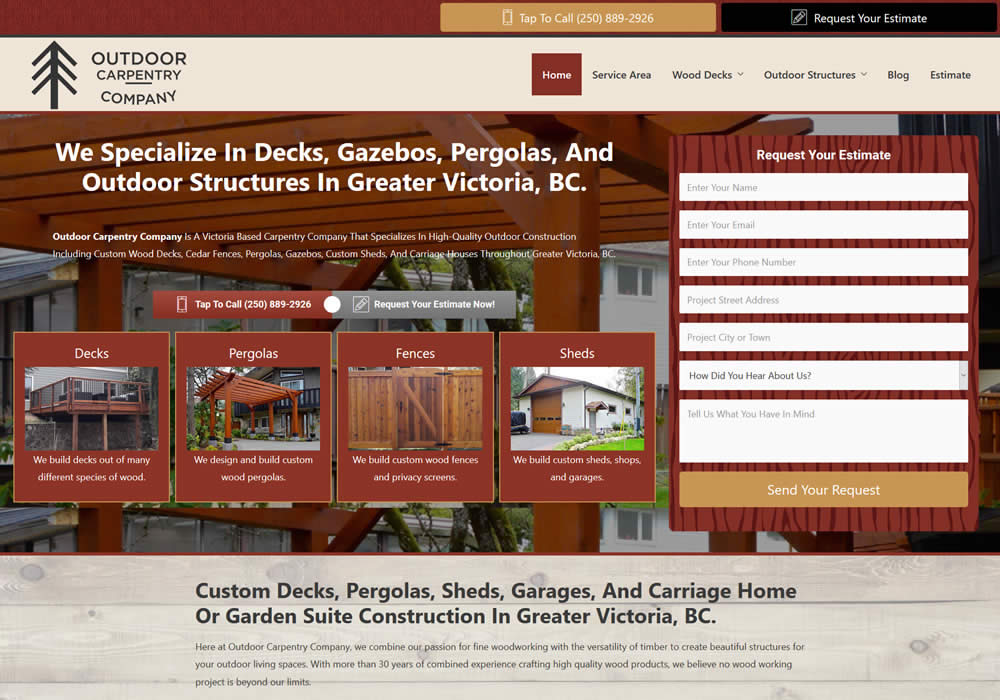 More Design Inspiration For Your Landscaping Company Website
Aside from your design (which should be conversion based) there are also many things you'll want to include in your website to help you convert more of visitors into potential customers who will reach out and ask you for a consultation or an estimate.
Here Are A Few More Tips:
#1.  Include Vivid Imagery:  You're in the landscaping business and your primary objective is to beautify someones property.  Landscaping websites with poor quality photos won't really do very well.
#2.  Include Before And After Photos:  If you're diligent and organized enough to be taking before and after photos of your projects you're way ahead of the game.  Many landscape contractors don't take the time to do this.  The more dramatic the difference is from before and after then the more persuasive your website will be.
We organize our clients before and after photos into "sliders" that are interactive and get your visitor actually engaging with your website.
#3.  Include Strategically Placed Calls-To-Action:  If your ultimate goal is to convert visitors into new potential customers (it should be) then you need to have easy to see, easy to use, and strategically placed calls-to-action on your website.
How we accomplish this:
Place tap-to-call and request estimate buttons at the very top of the website.
We place a contact form high and right above the fold.
We place tap-to-call and request estimate buttons throughout the content.
Do You Need Some help Designing Your Landscaping Company Website?
At Sites4Contractors we've designed and built many landscaping websites and we take the time to ensure you've got a rock-solid website, that looks amazing, improves our clients professional appearance, and helps them rank higher and attract better clients to their business.
Click here to schedule your FREE 15 minute consultation to see if we can help you with your landscaping company website.