Should You Hire YellowPages To Build Your Contracting Company Website?
Have you been approached by YellowPages to build a website for your contracting or construction company?  The price might be attractive and they talk a good game but is it really something that's going to help your business in the long term?  Let's go into this in a little more detail so you can make a good decision for your business if you've been approached by them.
Here Are Some Things To Consider:
#1.  Do You Own Or  Control The Domain Name?
Your domain name is your dot.com or dot.ca name for your business (eg. johnspaintingservice.ca).  This is something you (the business owner) always want to be in control of and you should always own it outright.
YellowPages, in an effort to make things easier for their customers who have limited technical ability will often register the domain name for your business.  This might be easier for you but it isn't really a good thing.
When they are in control of your domain name they can effectively hold your domain name hostage should you ever want to leave their platform which can be a very big hindrance to your online marketing efforts for your business.  You're basically left starting from scratch if they won't release the domain to you.  What if you have it printed on your business cards?  On your invoices? Your truck and trailer decals?  And other forms of marketing?  Now you can probably see how this could get expensive real quick?!  It becomes a nightmare for the business owner who wants to upgrade their website by hiring a professional developer.
Here's a snippet from YellowPages own Terms & Conditions that confirms this: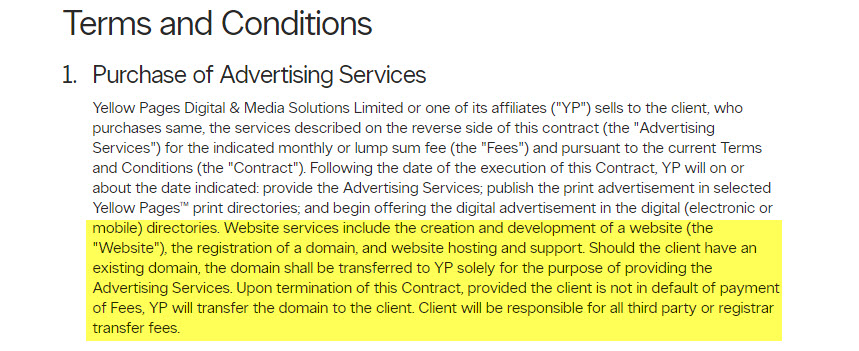 See that part about: "Should the client have an existing domain, the domain shall be transferred to YP solely for the purpose of providing the Advertising services.  Upon termination of this contract, provided the client is not in default of payment of Fees, YP will transfer the domain to the client.  Client will be responsible for all third party or regular transfer fees."
Absolutely NEVER, EVER under ANY circumstances should you transfer ownership or control of your domain name over to a third party when they build you a website.
#2.  Will They Build A Website For Your Competitors?
You don't even need to ask that question as you probably already know the answer!  It's YES!  They will happily build a website for your competition in the exact same service area.  This is counterproductive if they've promised to get you fantastic results as they will be employing the exact same strategies on your competitors website as they will be on your own website.  What if they've built websites for several of your competitors?  Who's going to see the results?  There are only so many spots on the first page of Google.
#3.  Do They Used Conversion Based, Beautiful Designs?
Their platform isn't about building you the best site possible.  It's about building you a website fast!  Most contracting business owners know nothing (or very little) about conversion based website layouts, most don't even know what the word "conversion" means.  Well, I'll tell you.  Conversions are the amount of people who take action when viewing your website.  For most contractors a conversion would be when someone views your website and then picks up the phone and calls you or they enter their details into your contact form to request an estimate.
YellowPages website designs are fairly uninspiring and they are actually several years behind in current design trends.  You're going to end up with a little cookie cutter website that is going to follow the same layout as your competitors who've also hired YellowPages to build their website.  Their packages offer very little design flexibility so you're really stuck with what they provide for you and that might not include cool features like review display apps, before and after photo sliders, interactive project maps, and other features an actual design agency can provide.
Just Look At The Difference Between The Two Sites Below
(click the buttons to view the enlarged screenshots)
If you were a consumer looking for a painting contractor in your area and you were faced with the above two websites, which one are you likely to consider more professional and likely want to do business with?  EXACTLY!
#4.  Their Reps Often Use Shady Tactics To "Sell" You On Their Service
I've received numerous phone calls from our contracting clients regarding YellowPages marketing reps.  Most contractors have realized that YellowPages traffic has decreased considerably over the last decade with the advent of the Internet.  Most people are finding their service providers by using Search Engines like Google or relying on recommendations from friends on places like Facebook.
When these contractors phone to cancel their YellowPages advertising the reps often try to discourage them from cancelling by telling them they will have "decreased Google rankings" if they stop paying for their YellowPages ads.  This is absolutely not true.  While having a YellowPages listing can definitely be a great citation for your Search Engine Optimization it's also FREE to have a basic listing which contains the basic information Google needs to see.  Yes, paying them can rank you higher in the "YellowPages" search engine but this has no correlation or relation to Google.
Here Are Some Other Things A YellowPages Rep Might Say To You: (Hint:  These are all mostly untrue)
"Your search engine rank will improve with a Yellow Pages listing."  (this one link won't make the difference between success or failure.)
"We're the only authorized Google Adwords reseller in Canada." (this is totally untrue)
"Our websites get more traffic than Google." (this is totally untrue)
"We have special ways of making your website show up on Google." (this is totally untrue)
"If you cancel with us, your ranking on Google will go down." (this is totally untrue)
If you've dealt with a YellowPages digital marketing specialist (and I use the term "specialist" loosely) and they've made any of these claims, rest assured, your business will be fine without them.  That doesn't mean you don't need a great website, you just don't need YellowPages to build it for you.
#5.  Their Search Engine Optimization Is Pretty Bad...
Anyone working in a cubicle at YellowPages building websites for contractors or construction companies is likely not someone who has a lot of experience with online and digital marketing.  You're going to end up with poor search engine optimization on a variety of fronts.
You'll end up with weak, thin content.  (this kills your credibility).
Your title tags and meta tags are almost guaranteed to need to be redone.
You won't get individual pages for all of your services. (this is key to drawing in traffic).
You'll have very limited support if you don't receive any results.  (unless you want to pour more money on!).
Watch This Video Critique Of A YellowPages Websites SEO
#6.  Just Do The Math
Most of the contractors we've spoken with are paying YellowPages $100-$500 per month for their website.  This is a website they don't own nor control.  In some cases they've paid extra ($1500) to have the website turned over to them.  It's not that it's expensive (it's really not) it's that you're getting very little website (or marketing) for your money.
So for simple math, let's say you've hired YellowPages for your website and you've entered into a contract of $300 a month for 12 months.  At the end of that 12 months you've paid them $3600 and you're stuck with something you don't own unless you continue to pay for their services.  $3600 is more than one of our basic website packages (which are amazing) and you're getting 10X the website.
Sites4Contractors Specializes In Building Amazing Websites For Construction & Trades Contractors
At Sites4Contractors we've building and marketing contractor websites since 2008.  If you're considering hiring YellowPages to build your website or you've been stuck with one of their websites for quite some time and you need a change give us a call or fill out our consultation form and we'll setup a good time to see if we're a good fit for each other.