Why Hire Us To Design Your Website?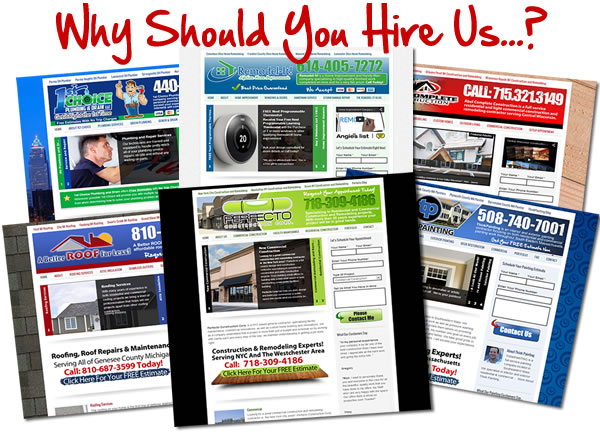 Why Should You Hire Sites4Contractors.Com to build and manage your website for your local service based business?  It's simple… Because you care about your business and how it's portrayed to the public.  You want a web presence that is current and a solid platform to continue moving your business forward for many years to come.
Sites4Contractors.Com specializes in building websites and developing Search Engine campaigns for local service based business owners.  Our passion is helping small business owners finally get their websites setup properly, ranked in search and delivering fresh new prospects for their business.  We want your website to become an asset for your company, a valuable and integral piece of your success.
Working directly with service based businesses such as Home Builders, Remodelers, Roofers, Plumbers, Painters and more we've developed a comprehensive web package for these specific niches that we feel is one of the most complete and thorough packages you're going to find.  We don't just offer you a website, we back it up with rock solid support and a marketing team that will always be monitoring your website and working towards the common goal of getting you more business.
When you choose us to design your website you aren't just hiring another "web designer"… You're taking on a team of talented individuals who want to become an integral part of your business success.
Here Are A Few More Reasons To Hire Us:
Website Platform
We build your website using the WordPress content management system.  This provides a rock solid publishing platform that is current and frequently updated.  If you had a website designed 5 years ago, chances are it's obsolete now and so is the software behind it…  If you'd used WordPress (yes it was around 5 years ago) you would have just finished your 1 click update to version 3.6.1 (as of this writing).  When you build with WordPress your website software doesn't become obsolete, it stays current.
Website Design
We offer simple, but effective website designs that are easy to maintain and for us and other developers to work on.  The last thing you want for your business is to have some custom one-off design that nobody else can fix or update for you.  When we design your website we're using well known WordPress themes that are popular among web marketing professionals and they are widely supported and frequently updated.
Website Content
We go the extra mile when creating your web content so we're not just creating content that search engines like, we're creating content that your visitors will love too.  Our goal when developing your content is to position your business as the local authority in your niche.  We want your web visitors to perceive your business as one that has their act together and is capable of completing their project, with a predictable and reliable outcome.  Our website content is written in-house by our team of small business marketing professionals.  You will appreciate the extra attention we put into your web content as it will read well and leave your visitors with a great impression of your professionalism and knowledge in your field.
Social Media
As part of every web package we do for our clients we also include their social media campaign setup.  This includes Facebook, YouTube and Google + setup and more.  All integral parts of a successful web presence and yet many web development firms don't include these with their packages or are happy to sell them to you as an additional "extra" or "upsell" (often worth $500 – $1000 or more!) when in reality your website isn't going to perform very well without them!  We do this for our clients because we know it makes a difference in the "big picture" of SEO and it's simply the "right way" to do things.
Website SEO
This is where the rubber meets the road when it comes to web design and it's the reason we've chosen WordPress and the Genesis framework to build your website.  Every page, every image, every item we add to your website will be optimized for Search Engines based on the specific keywords we are targeting for your business.  This is actually tedious, extremely boring, manual labor that must be completed by someone who knows what they are doing.  Many design firms will outsource this work, and the optimization ends up being so poor it just confuses the Search Engines instead of assisting them with your ranking.
Ongoing SEO Management
The cold hard truth is… You can't just build a nice website and let it sit there.  Your competitors who are less complacent than you will out-rank you and take away prospective clients from your business.  It's like taking candy from a baby if you're not going to compete with the other web smart contractors.  If you want to close more deals from the web then you need to compete for them and that means being active with on-going SEO.  We offer our clients (only our clients) an affordable monthly maintenance package that keeps us "on top" of your website on a weekly basis.  You'll receive detailed ranking reports every week along with key information on what your competitors are doing and how we can continue going toe-to-toe in the competitive arenas.
Technical Support and Updates
You aren't a web geek and when we're maintaining your website you won't have to be.  We take care of all technical issues with your website.  Wordpress is frequently updated, so are some of the plugins we use for our websites such as the contact form plugin and the homepage slider (rotating pictures).  We take care of these updates (and any potential technical bugs) that may and do sometimes arise with the upgrade process.  We're also there for you should any technical issues happen with your website such as technical errors or server malfunctions.
It's a Tough Decision…
We understand that choosing a web marketing company to trust with your business interests is a tough decision.  Just know that our ultimate goal is to build you a website and do the required SEO leg-work so that it generates you business.  We want your website to become an asset for your company, worth more than you paid for it and continuing to appreciate as it delivers new prospective clients for you to followup with and close.
If you just want a really nice looking website, you can probably find that just about anywhere…  You probably don't need us. But…  If you want a really nice looking website, with a solid SEO foundation so you actually start experiencing results from your website than you need to choose Sites4Contractors.Com
If You Have Any Questions Please Let Us Know!